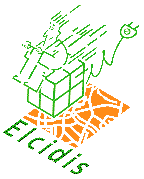 The Project
ELCIDIS Objective

The main objective of ELCIDIS is to assess the efficiency and environmental impact of an electric vehicle based goods distribution system, based on practical demonstrations in 6 European cities.
More concretely the following targets can be distinguished:
To demonstrate the economic, technical and social viability of urban distribution using electric vehicles.
To analyse the environmental benefits of the deployment of electric vehicles for goods distribution.
To gain insight into the technical specification of (hybrid) electric vans which are in operation for urban distribution activities.
To analyse the logistic efficiency of newly created urban distribution centres.
To demonstrate the value of incentives to promote environmentally-friendly vehicles.
To gain clear insight into the benefits of urban distribution using (hybrid) electric vehicles for all concerned parties, i.e. transport companies, shopkeepers, businesses, residents and shoppers.
As a result of the project, guidelines and recommendations will be given on the key factors for the successful deployment of (hybrid) electric vehicles for efficient urban distribution activities. The results of the project can help other cities in starting projects for clean and efficient urban distribution systems. In the long term, ELCIDIS also aims at making a contribution towards opening up the market for (hybrid) electric vans and trucks.